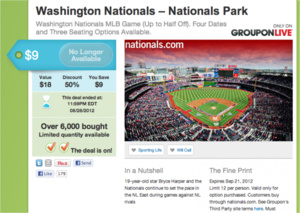 Groupon has announced today that the daily deals site will now offer deals from all MLB (Major League Baseball) teams.
The tickets will be available through GrouponLive, the company's online ticketing platform.
Live started as a partnership with Live Nation and users can now find tickets for concerts, sports, theater and other live events.
Baseball teams had made deals with Groupon during the last season, but it was on an individual basis.
Some of the teams will offer "once-in-a-lifetime experiential packages" which include access to batting practices, luxury box seats, and clubhouse and ballpark tours, says
TNW.
Groupon will certainly need more deals like this if it hopes to remain in business. Its shares have fallen from highs of $26 last year to just $4 as of today.