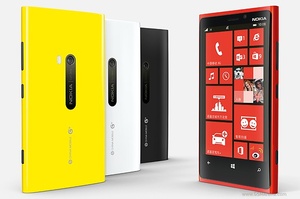 Nokia
has officially announced the
Lumia
920T smartphone for China Mobile.
The device will launch on December 21st and sell off contract for 4599 RMB ($739) in four different colorways; black, red, yellow and white.
Being the first Windows Phone 8 device to be available on China Mobile is significant given the fact the carrier has 700 million subscribers and does not offer the iPhone. The phone will be redesigned with a TCDMA chip, for China's 3G networks.
Nokia sold just 2.9 million Lumia devices last quarter, a huge disappointment compared to
Samsung
and
Apple
, which sold over 30 million of their smartphones.
"We are delighted to partner with China Mobile, the world's largest operator, to introduce China's first Lumia based on Windows Phone 8. People around the world are responding positively to the new Lumia devices, and we're confident that the enthusiasm will extend to China with the Lumia 920T,"
added
Stephen Elop, President and CEO of Nokia.