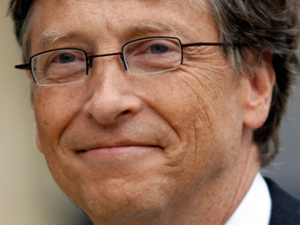 Forbes
has released their annual list of the world's most powerful people and placed
Microsoft
founder Bill Gates at number four.
The list takes wealth and influence into account, and the list is unsurprisingly topped by American President Barack Obama.
Due to founding Microsoft, Gates has a net worth of $65 billion, even after donating over $20 billion to various charities and causes. He is the co-chair of the Bill and Melinda Gates Foundation, which has aimed to remove numerous diseases from the planet or at least better educate the world's inhabitants.
Gates says the Foundation will save billions of lives by 2020.
Additionally, Gates has gotten 91 wealthy individuals to agree to donate most of their wealth towards philanthropy, as he and Warren Buffet will do when they pass.
Other notable tech figures on the list are Sergey Brin and Larry Page of Google at #20, Mark Zuckerberg of Facebook at #25, Jeff Bezos of Amazon at #27, Tim Cook of
Apple
at #35, and Microsoft CEO Steve Ballmer at #48.