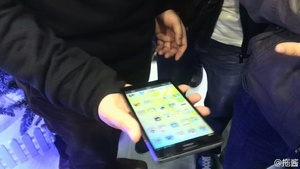 Huawei has decided that bigger is better.
The Chinese company has introduced its new Ascend Mate smartphone with a massive 6.1-inch
1080p
Android
phone.
Officially,
the phone will be unveiled at CES
but it appears exec Richard Yu was a bit impatient with the new flagship.
The device has a 1.8GHz HiSilicon K3V3 quad-core chip, a 4,000mAh battery and a thin form factor at 9.9mm thick.
For fans, Yu also revealed that the display is LTPS (low temperature polysilicon) with 361ppi.