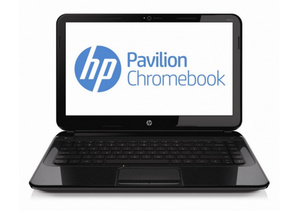 Although it has since been taken down, a
PDF
found on HP's website showed off the specs for an upcoming
Chromebook
, the company's first entry into the market.
The Pavilion Chromebook will include a 1.1GHz Celeron processor, 2GB of
RAM
, a 16GB SSD and a 14-inch, 1366 x 768 display.
At 14.6-inches, the new Pavilion will have a much larger screen than the average Chromebook, most of which have 11.6-inch screens. More notably, the smaller displays each have the same
resolution
as HPs, making the decision even stranger.
Even more unfortunately, the device has a claimed battery life time of just 4 hours and 15 minutes. The top Chromebook, built by
Samsung
, has stated battery life of 7 hours.
The official launch of the device
is expected for mid-February
.