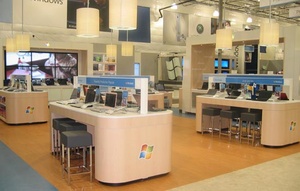 After expanding wildly in 2012,
Microsoft
has announced it will open five new retail locations in the U.S. for 2013, following the six already announced.
The company has not revealed the exact dates, but does say they will be open by the summer.
Here are the locations:
Natick Mall, Natick, Massachusetts
Ala Moana Center, Honolulu, Hawaii
Pioneer Place, Portland, Oregon
The Somerset Collection, Troy, Michigan
Woodfield Mall, Schaumburg, Illinois
Earlier this year, the company announced six new locations, in major cities such as San Antonio, Miami, Beachwood, San Francisco, Salt Lake City and St. Louis.
In 2011, Microsoft said they planned to open 75 stores before 2014, and they seem to be well on their way. Adds the Redmond giant (via
Crunch
):
"Our customers continue to tell us that they value our stores for connecting them to the best of Microsoft. This delights us to no end. From the newest touchscreen laptops, desktops, and tablets running Windows 8, to Windows Phones, to Xbox and Kinect consoles and accessories, to a wide array of first and third-party software titles, our goal is to introduce you to the best choice, value and service we have to offer."