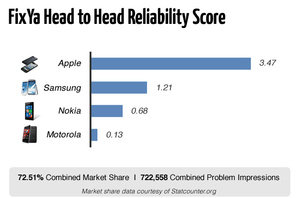 According to a new report from Q&A site FixYa, the iPhone is the most reliable smartphone.
The company "looked at data from 722,558 problem reports listed on the site, and combined that information with market share data from StatCounter to create an ultimate reliability score for each smartphone manufacturer," says
Mash
.
Apple
beat out
Samsung
,
Nokia
and
Motorola
handily.
"Smartphones are consistently being compared on a case-by-case basis, but no one has looked at the overall trends across a manufacturer's entire smartphone line,"
added FixYa CEO and founder Yaniv Bensadon.
"Our newest FixYa report looks at lines like the iPhone, Galaxy, or Lumia, and through a careful analysis of issues versus market share, we've been able to directly compare manufacturers using a reliability score. The result is an accurate and fair method of a scaled approach to fairly compare these top companies to truly see who is the most reliable, and who is barely even competing."
The report looked at full product lines, and every company had different complaints. iPhone users complained mainly about lack of customizability, lack of new features and poor battery life. Samsung users also complained about the battery life, but also had issues with the speaker/mic and device overheating. Nokia users complained about a poor app ecosystem, laggy UIs, and poor battery life. Lowest-ranked Motorola had a wider range of issues. Users complained of touchscreen issues, camera and speaker issues, and the
bloatware
installed on their phones.