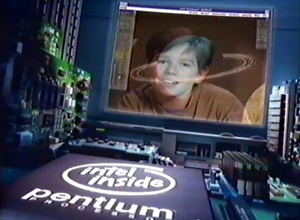 Yesterday, the Pentium processor turned 20 years old, a huge milestone for
Intel
.
The first chip in the line, the Pentium P5, was introduced on March 22nd, 1993, boasting such impressive specs as 66 MHz clock speed, 3.1 million transistors, a TDP of up to 16 W, and a 800nm manufacturing process.
Intel's new Ivy Bridge processors have clock speeds up to 3.90GHz, 1.4 billion transistors, a TDP of up to 77W and a 22nm dye process, making the chips many, many, many, many times more powerful and smaller than their older brother.
Engadget
has collected a couple of funny old Pentium videos, including one by parody artist Weird Al Yankovic.