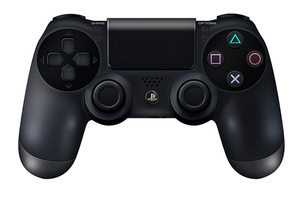 At the ongoing Games Developers Conference (
GDC
) 2013 this week,
Sony
has taken the time
to show off their new PlayStation 4 controller as well as the Eye technology.
The new face buttons and the L1/R1 buttons are now digital and not analog, which Sony says will reduce latency (and most likely cost). The analog sticks will have a smaller so-called "dead zone," a complaint for many years by active users.
Sony's new light bar glows a different color for different players and will also blink while charging, even if the PS4 is in standby mode.
The touchpad on the controller has a large 1920x900
resolution
, can be "clicked" if you push on it, and supports 2 point contact.
Moving to the Playstation Eye, the camera has 2 cameras inside and four mics for better tracking.
Additionally, the company released some slightly updated specs on the console:
CPU: Single-chip custom processor, x86-64 AMD "Jaguar" 8-core

GPU: 18 "compute units" capable of cranking out 1.84 TFLOPS, next generation AMD Radeon based graphics engine.

Memory: 8GB GDDR5 RAM and 176GB/sec of bandwidth

Connectivity: 802.11n WiFi, USB 3.0, Bluetooth 2.1, Auxillary ports, Analog AV, and digital optical outputs and HDMI.