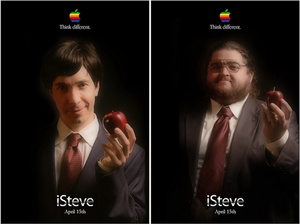 After a one day delay, the parody Steve Jobs movie 'iSteve' is now available for viewing online.
The movie will star Justin Long as Jobs and Jorge Garcia of 'Lost' as
Apple
co-founder Steve Wozniak. The movie will be about 80 minutes long.
iSteve comes on the heels of Ashton Kutcher's 'jOBS' biopic being delayed, and Aaron Sorkin's Sony-backed Jobs biopic being set for release in late 2014.
The movie is a satire of biopics in general and will stretch facts and stick completely to Funny or Die's comedy roots, although the long-form film is certainly a move away from the site's regular content, which are 5 minute clips or shorter.
View it here:
iSteve