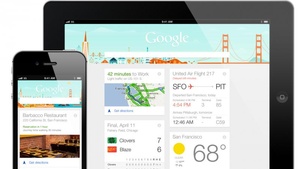 Google has made their excellent Google Now software available to
iOS
users.
Now comes as part of a broad update to the iOS Google Search app and is compatible with both the iPhone and the iPad. Nearly all of Google's information cards are ported from
Android
and the service itself is almost identical in look.
While Google Now does support iOS background location feature, it cannot do the same background sync Android users are accustomed to so pulling up locations may take slightly longer. High priority Now card alers will also not use the iOS notification system. Finally, it can pull events from your Google Calendar not the local
Apple
one
.
Says
the company:
"As with many Google products, Android (and Nexus devices) always give you the best Google experience, but we aim to make our services available to as many people as possible. Android offers more integration opportunities than iOS."