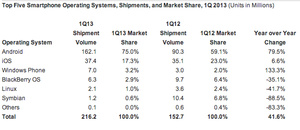 According to a new IDC report,
Android
now accounts for 75 percent share of the smartphone market.
For the Q1, IDC says Android and
Apple
shipped 199.5 million handhelds, up 59 percent year-over-year.
Combined, Android and
iOS
control 92.3 percent share of smartphone operating systems, leaving very little room for competition from BlackBerry and Windows Phone.
The news was not all bad for
Microsoft
, however, as Windows Phone surpassed BlackBerry during the quarter, shipping 7 million units good for 3.2 percent share. BlackBerry fell to 4th with 6.3 million shipments and 2.9 percent market share. WP saw 133 percent growth year-over-year, beating out all other OS.
Nokia
shipped 79 percent of the Windows Phone devices during the quarter, with
HTC
accounting for most of the rest.
"Windows Phone claiming the third spot is a first and helps validate the direction taken by Microsoft and key partner Nokia,"
added
IDC senior research analyst Kevin Restivo.
"Given the relatively low volume generated, the Windows Phone camp will need to show further gains to solidify its status as an alterative to Android or iOS."