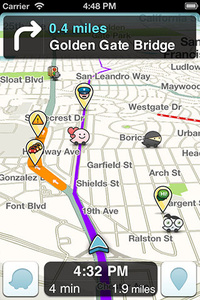 Two weeks ago we reported that Facebook was interested in purchasing Israeli mapping startup Waze for up to $1 billion.
Today,
it appears
that Google is also now in the bidding, and that could up the buying price.
Waze specializes in satellite navigation for mobile devices, and uses members' smartphones to generate maps and traffic data. More importantly, Waze collects user's traveling speed and direction, which is extremely valuable data if monetized correctly. Google Maps and other popular mapping apps do not include such data.
It had been reported that due diligence between Waze and Facebook had been going on for six months and a term sheet had already been signed. The talks seems to have stalled due to Facebook's demand that the whole team relocate to Palo Alto from Israel.
The company currently has 47 million users, with 12 percent coming from the U.S. It also has particularly strong penetration in Brazil and its home country.