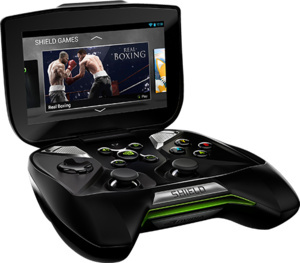 NVIDIA announced this week that it was cutting the price of its SHIELD handheld games device to $299, ahead of its launch on June 27.
That's a drop of $50 off the original $349 price tag. If you've already pre-ordered
SHIELD
, you'll be charged the new, lower price, NVIDIA assured those who jumped on it early.
The handheld will be available from Newegg, GameStop, Micro Center and Canada Computers on Thursday, June 27.
"We want to get SHIELD into the hands of as many gamers as possible,"
an NVIDIA press release said.
The unveiling of the SHIELD (then Project SHIELD) at CES, and prior rumours, came as something of a surprise since the SHIELD enters a space already occupied by Nintendo, Sony and now every modern smartphone and tablet PC too.
NVIDIA SHIELD's specifications:
Tegra 4 – The world's fastest mobile processor delivers rich graphics and unbeatable performance thanks to 72 GPU cores, four CPU cores and 2GB of RAM
Console-grade controller – Precise control thanks to dual analog joysticks, a full-sized D-Pad, left and right analog triggers, full-sized bumpers and A/B/X/Y buttons
Multi-touch display – 5-inch, 720p retinal multi-touch display for high-fidelity visuals
Integrated speakers – Custom, bass reflex, tuned port audio system – we think this is SHIELD's sleeper feature
Pure Android – Latest Android Jelly Bean operating system from Google, for access to Android games and apps
View a complete spec sheet
here
.