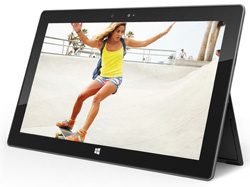 Although consumers have ignored it and
Microsoft
was forced to take a $900 million loss due to it, at least one company remains bullish on the long-term prospects of the Windows RT operating system.
Rene Haas, VP of computing at Nvidia, says the company's commitment to the OS
"remains at a high level and hasn't changed."
Nvidia makes the Tegra 3 processor that powers the Surface RT and Lenovo's Yoga 11 RT tablet. The powerful quad-core Tegra 4 will be available for upcoming RT devices, as well.
"Surface RT is the very beginning of a long process and it's the first shot in a changing landscape,"
Haas
added
.
"Microsoft is moving the entire Windows platform to something really mobile."
Microsoft recently took a $900 million loss due to excess Surface RT inventory and dropped the prices across the board by $150.
Overall, Haas seemed very encouraged by Microsoft and the platform, in general, adding that Nvidia employees all use Surface RT with Windows 8.1.