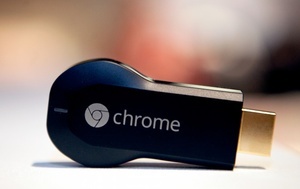 Last week, Google unveiled their Chromecast adapter, a small media and Internet stick that can be plugged into your TV's
HDMI
port to sling content via Wi-Fi.
At a cost of just $35, the stick should unlock the Internet for those that do not have Smart TVs, set-top boxes or video game consoles. All new orders also receive three free months of Netflix, even if you are a an existing subscriber, effectively dropping the price to almost nothing (unless you don't care for Netflix). More importantly, the Chromecast lets you sling content from
Android
and
iOS
phones and tablets, Chromebooks and on Mac and Windows PCs via the Chrome browser.
You can control your TV via the stick, as well, from your device, including playback and volume. If your TV cannot power directly from the HDMI, there is an adapter included, as well. With the exception of Silverlight and
Quicktime
video, any other web video or audio source will play on the TV if it plays in your Chrome desktop browser. You'll be able to run Netflix, Pandora, HBO GO,
free
Hulu and Rdio among others that are not normally easily played without specialized apps.
Today,
Hulu says
they are actively working with Google on bringing Hulu Plus to the Chromecast. Hulu Plus is an $8 per month subscription service that gives consumers access to full libraries of current and archived shows. On the free site, only a few episodes of each series are made available.
With Chromecast, the free version of Hulu will be available on the big screen, which Hulu has blocked in the past. There is nothing they can do about this situation, however, as the Chromecast is effectively like connecting your TV to your PC via an HDMI cable.
HBO recently announced it was looking to get HBO Go on the adapter, as well. Netflix includes a 3-month free trial with all Chromecast purchases, even if you already have a subscription.