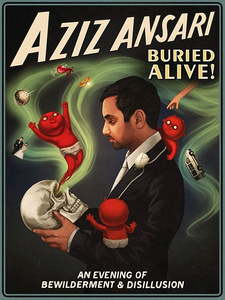 Netflix has taken their original programming to a new frontier, comedy.
Aziz Ansari's new special, Buried Alive,
will debut exclusively on Netflix on November 1st
. The high-profile comedy special is Netflix's next step in their fight with HBO, who has long premiered standup from popular comedians.
Netflix will also promote the special with the same time and money as they did their other original programs, such as House of Cards and Orange is the New Black.
The company recently told investors that they would be expanding into stand-up and documentaries. The company has said the
streaming
service
"has become a big destination for fans of these much loved and often under-distributed genres."
Ansari has previously sold his specials directly through his website as a digital download and Buried Alive will be available to buy for $5, but after Netflix's premiere.