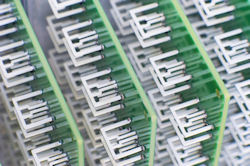 Aereo
CEO Chet Kanojia has
confirmed
that the
streaming
service will be available on
Android
devices starting next month.
While an exact date was not confirmed, the exec says the announcement will take place in the coming weeks. The company had originally wanted an Android app earlier in the summer, but delayed the development.
Since launching in NYC and Boston, the service has expanded to over 20 cities now, with more planned.
The startup's service, which costs $8 per month, allows users to watch free,
OTA
content on any mobile device along with a free remote
DVR
. Aereo does not pay any re-transmission fees as it uses tiny digital TV antennas for each user in its own facilities and links to the streams.
The company has faced significant backlash since launching in 2011. Last year, CBS, NBC, Fox and other smaller broadcasters filed a copyright suit claiming unauthorized access to their content. So far, two federal courts have sided with Aereo and the company continues to expand and innovate.