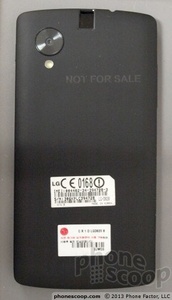 Although it has still not been confirmed, it seems to be a lock now that
LG
is building the Nexus 5, and we have already seen it in action thanks to an inadvertent Google slip.
The FCC
has now posted
pictures of a device that is made by LG and looks almost identical to the image we saw in Google's
Android
4.4 statue video.
FCC's filings show off at least a prototype of the Nexus 5, which will certainly have an improved camera from its predecessor.
There is little else known about the phone but it is rumored to have a 5-inch screen, a quad-core Snapdragon 800, 2GB
RAM
and
LTE
support.