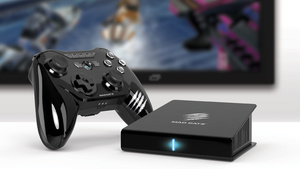 Gaming accessory maker Mad Catz has launched their entry to the
Android
game console market, the "Mojo" box.
The Mojo is available for sale now after first being unveiled at the
E3 expo
in June.
Running on Android 4.2.2
Jelly Bean
, the device allows you to play your Android games on your big screen TV, as well as access your apps and media you may already have on your phone or tablet. There is full access to the million-app strong Google Play Store.
Powering the Mojo is a Tegra 4 processor, 16GB internal storage, a
microSD
slot, Wi-Fi and Bluetooth 4.0.
The most important part of the console is its gamepad, which Mad Catz explains:
To maximize control over controller-compatible games and apps, M.O.J.O. comes with a GameSmart C.T.R.L.R Mobile Gamepad which mobilizes gameplay without forfeiting the familiarity of the console-style controller you know and love. C.T.R.L.R offers three different gaming modes and enhanced portability for where ever the game may take you. Here are some cool features of the C.T.R.L.R Mobile Gamepad:

BLUETOOTH SMART COMPATIBLE – Play with lower latency and extended battery life and connect to other Bluetooth devices

MEDIA BUTTONS – C.T.R.L.R functions as a remote to control volume and playback of video and music MOUSE MODE – Flip a switch to turn C.T.R.L.R into a mouse and use the left analog stick to control the onscreen cursor. Ideal for touchscreen interaction!

TRAVEL CLIP – Attach your phone or smart device to the C.T.R.L.R and game anywhere.
The console costs $250 with the included controller,
and supplies are running out quickly
.