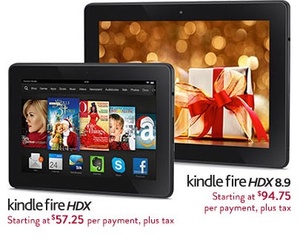 In an effort to boost sales of their Kindle Fire HDX, Amazon has begun a new partial money down, no interest financing option for the tablet line.
Here's how it works:
Make your first payment at checkout to get your new Kindle Fire HDX. Pay the remaining balance in 3 equal installments every 90 days.

No interest
No finance charges
No hidden fees
No credit check or application required

To get started, click on the button below. Add any eligible Kindle Fire HDX or Kindle Fire HDX 8.9" tablet to your cart. At checkout, we'll charge 25% of the device price, plus any applicable tax and shipping charges in full. The remaining balance will be automatically billed to your credit card in three equal installments every 90 days.
If you fail to pay off the balance, Amazon will deregister the device and block all content you have paid for, including your Kindle books, Amazon music and more.