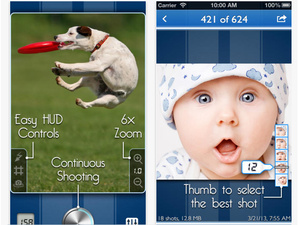 Apple
has acquired
iOS
camera app developer SnappyLabs, run by John Papandriopoulos, an electrical engineering PhD from the University Of Melbourne.
The dev wrote the app SnappyCam, which is popular with iOS users due to its ability to take full-res photos at up to 30fps, much faster than the native iPhone/iPad app and the ability to take an infinite amount of photos while holding down the
shutter
, just like an SLR.
Apple did not comment on their upcoming plans for the app and its founder:
"Apple buys smaller technology companies from time to time, and we generally do not discuss our purpose or plans."
The app and its burst-mode technology sold for just $1, and topped the paid app chart on-and-off in multiple countries.
It is likely a version of the technology will be integrated into future updates for the iOS app.