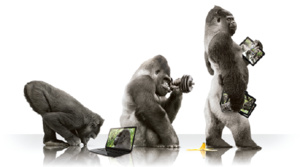 Corning has announced its Gorilla Glass standard will soon makes it way to wearables and other curved designs.
The company has confirmed the availability of "novel 3D glass-forming technology" to shape Gorilla Glass.
Additionally, the company is working with GTOC to create vertical integration of the manufacturing process.
"We can now take Gorilla Glass all the way from flat sheet to a finished 3D-shaped product in Asia, expediting turnaround times and minimizing logistical complexity,"
said
James R. Steiner, senior vice president and general manager, Corning Specialty Materials.
"That's a win for Corning and our customers."
According to the press release, the "3D-forming technology can achieve precise tolerances and high throughput on a platform that is more economical than alternative two-mold forming methods. This technology uses Gorilla Glass of uniform thickness, assisting designers to introduce thinner and lighter devices and leverage the emergence of conformable displays for mobile and wearable applications."