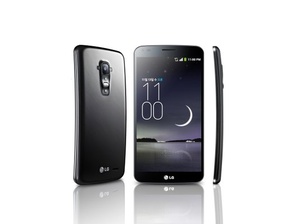 Sprint has announced that LG's curved G Flex smartphone will reach the carrier on January 31st with a $299.99 price tag on contract.
LG
said earlier this month that the device would be headed to AT&T, Sprint, and T-Mobile over the winter, and Sprint is the first to give a timeframe.
"Continuing to raise the bar in innovation, we are thrilled to once again team up with LG to bring a top-of-the-line device to our customers,"
said David Owens, vice president of product, Sprint.
"LG G Flex combines everything in a single device and provides Sprint customers curved ergonomic comfort and a cinematic viewing experience that will make movie buffs rejoice. With the multitude of Android™ apps available for download, LG G Flex with Sprint Spark, combined with Sprint's new Sprint Framily Plan, make an ideal pair for today's multimedia, multitasking lifestyles."
The device feature a
720p
6-inch curved P-OLED, which LG claims is ultra-light, ultra-thin and flexible. The device runs on
Android
4.2.2, is powered by a 2.26GHz Snapdragon 800, an Adreno 330
GPU
, 2GB
RAM
and a 3500mAh battery. In addition, the device has a 13-
megapixel
rear camera, and a 2.1-megapixel front camera. The OLED panel is also built with plastic substrates, for better durability. The display also includes Real
RGB
technology for all three sub-pixels in one
pixel
, increasing brightness.
Another very interesting feature is what LG calls 'Self-Healing' coating for the back cover which helps the device "recover from the daily wear-and-tear scratches and nicks that un-cased smartphones are likely to receive."
For connectivity, the Flex has LTE-A,
LTE
, HSPA+, Bluetooth 4.0,
USB 3.0
, Wi-Fi (
802.11
a/b/g/n/ac) and
NFC
suuport. LG can also decode
MP3
,
CD
quality or 24 bit/192kHz Hi-Fi for audiophiles.