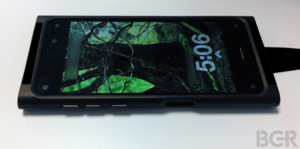 Earlier this week we reported that Amazon was working on its first smartphone, a 3D device that could be
unveiled in June for a launch in September
.
This morning, pictures emerged purporting to be the alleged Amazon phone, showing off the multiple cameras on the front as rumored to make the device 3D capable without the need for glasses. There are four corner cameras alongside the standard camera.
There is little to see of the design as the company has protected it with a case while still in prototype.
Sources say there will be two handsets released, a high-end and a mid-range model, each with different features and specs. The mid-range device will not have 3D capabilities or the added cameras.
Other than the camera, the phone will have a disappointing 4.7-inch
720p
display and a Snapdragon processor, says the sources. The real selling point will be the 3D technology, which means text and images can move as a person head moves (or the phone moves), and could certainly be ideal for visual gaming, thanks to the added depth perception.
The smartphone will most likely run on the Android-forked Fire OS, and have access to Amazon's curated version of the Google Play Store.
Source:
BGR