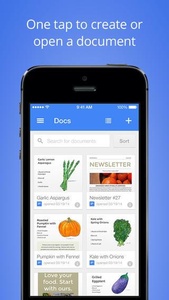 Just a month after
Microsoft
launched their Office suite for iPad, Google has responded by releasing Google Docs and Google Sheets for
iOS
.
Until now, any productivity content you may have had was restricted to
Google Drive
or the Web browser, which were not overall great experiences. Additionally, Google's PowerPoint-equivalent Slides is "coming soon" but has not reached the App Store like its brothers.
Google has had dedicated apps for
Android
for some time.
Reads the release for Docs:
Create, edit & collaborate with others on documents from your iPod, iPhone, or iPad with the free Google Docs app.

With Google Docs you can:

-Create new documents or open and edit any that you started on the web or another device.
-Share documents and work together with others in the same document at the same time
-Get stuff done anytime–even without an internet connection
-Add and respond to comments
-Never worry about losing your work–everything is automatically saved as you type
For Google Sheets, the spreadsheet editor, here is what Google says:
Create, edit & collaborate with others on spreadsheets from your iPod, iPhone, or iPad with the free Google Sheets app.

With Google Sheets you can:

- Create new spreadsheets or open and edit any that you started on the web or another device.
- Share spreadsheets and work together with others in the same spreadsheet at the same time
- Get stuff done anytime–even without an internet connection
- Format cells, enter/sort data, perform various sheet operations, and more
- Never worry about losing your work–everything is automatically saved as you type