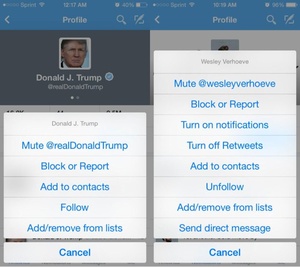 Ever wish you could silence people in your Twitter stream without necessarily having to unfollow them? Soon enough, you will be able to.
The new "Mute" option will let you hide tweets and other activity from people you follow, but they will still be able to interact with you, including replies, favorites, direct messages and retweets.
Mute is great for when someone you follow begins ranting, or live tweeting events that you do not care about and it is filling up your entire timeline. Mutes can be reversed at any time, and you do not have to unfollow them just to re-follow them later (which can be awkward).
The function will be available through the officials
iOS
,
Android
apps and Twitter's desktop site. Third-party clients have already added it in most cases, or will be soon.
If you already have access it to it, check the "more" link on an tweet and then click "mute @username."