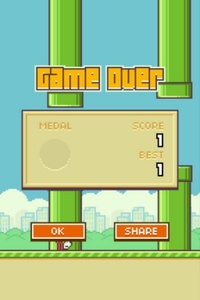 Dong Nguyen, maker of the blockbuster mobile game 'Flappy Bird,' is set to bring the game back in August with new multiplayer features.
Additionally, the game will be "less addictive" than the original, although it is unclear how the developer will make that happen.
Nguyen took the game down from the
Android
and
iOS
app stores in February following guilt that players were spending too much time playing the "addictive" game. At the time, the developer was allegedly making $50,000 a week from ads.
The game was downloaded over 50 million times, and is still played by tens of millions.
Flappy Bird's Dong Nguyen: Flappy Bird is coming back. Multiplayer. August. @CNBC

-- Kelly Evans (@Kelly_Evans) May 14, 2014