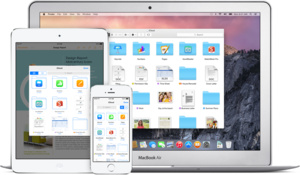 Earlier today during their
WWDC
keynote,
Apple
unveiled iCloud Drive, a cloud storage file system for storing all of your documents and accessing it no matter where you are.
The service will rival
Dropbox
and other similar solutions like Google's own Drive.
Each application you use with iCloud Drive will have its own folder within the interface, and those can be found easily through Finder. Your files can be synced across
iOS
, OS X and also Windows. If your app is not yet iCloud enabled, you can still manually drop files and folders into the Drive to keep them synced.
There is not yet an iOS app for iCloud Drive, but there is a file browser, which is a good start. To open files, you will need to open an app that uses iCloud Drive for storage.
Apple has priced 20GB of storage at $0.99 per month, while $3.99 per month gets you 200GB. If you have an iCloud account, you get 5GB for free, and that is likely enough for most. There will be tiers bigger than 200GB, but prices have yet to be determined.