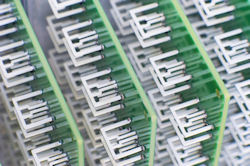 Today was a sad day for tech innovation as the Supreme Court ruled against broadcast startup
Aereo
in one of the biggest rulings for the TV industry in a very long time.
In 2012, the major broadcasters Fox, ABC, CBS and NBCU sued Aereo, citing copyright violation concerns. The startup's service, which costs $8 per month, allows users to watch free,
OTA
content on any mobile device along with a free remote
DVR
. Aereo does not pay any re-transmission fees as it uses tiny digital TV antennas for each user in its own facilities and links to the streams.
In their initial suit, the broadcasters claimed that
"Aereo will infringe their copyrights by making available technology which enables consumers to access broadcast television via a remote antenna and DVR."
The original court agreed but the appeals court did not.
We will have a full analysis tomorrow, but for now, here is CEO Kanojia's letter to investors and users: