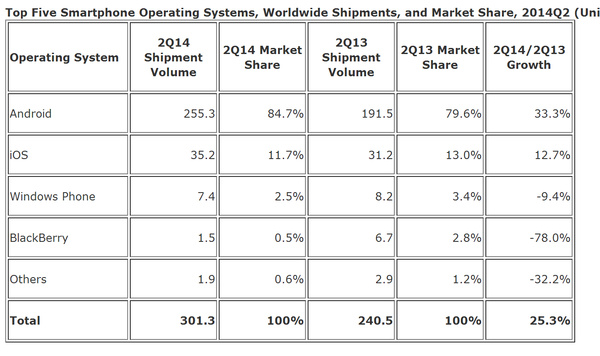 According to new data from IDC, the smartphone market reached a new milestone, with global OEMs shipping 300 million units for the Q2 2014.
Overall, the market saw 25.3 percent growth year-over-year, which was still impressive but smaller than past years as the market reaches saturation.
On the operating system front, there are only two players remaining, with Android and iOS combining for a ridiculous 96.4 percent market share. Android accounted for 84.7 percent of shipments, and 255 million smartphones. The iPhone came in second at 11.7 percent share, good for 35 million units sold for the quarter. Apple's share has mostly peaked but the company remains one of the most profitable on the planet and sales are still very strong for the iPhone in its multiple iterations. Windows Phone dropped, with shipments at 7.4 million and good for 2.5 percent share.
"With many of its OEM partners focusing on the sub-$200 segments, Android has been reaping huge gains within emerging markets,"
says Ramon Llamas, Research Manager with IDC's Mobile Phone team.
"During the second quarter, 58.6% of all Android smartphone shipments worldwide cost less than $200 off contract, making them very attractive compared to other devices. With the recent introduction of Android One, in which Google offers reference designs below $100 to Android OEMs, the proportion of sub-$200 volumes will climb even higher."
Samsung continued to see its overall OEM share fall, now down to just 29.3 percent of all Android phone, down from its peak of 40 percent in late 2012. Chinese giants like Huawei, Lenovo and Xiaomi have all been taking share in China where growth is still very strong.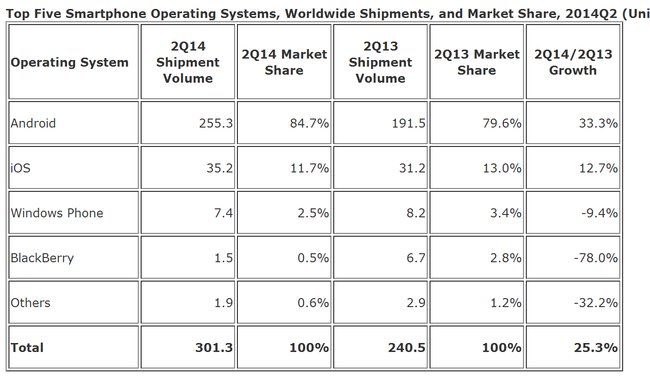 Source:
IDC