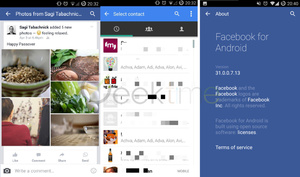 A year after Facebook spent $19 billion to acquire the messaging giant WhatsApp, the social media behemoth is beginning to integrate the service.
Currently in an early beta, Facebook has begun testing integrating WhatsApp into its mobile apps, starting with Android.
Reads the
report
:
"Facebook has added a "Send" button with the familiar WhatsApp icon as a part of the status actions buttons that appear under each status update. The new button appears on the right side (for left-to-right languages) for some users in the most recent version of the Facebook for Android app."
Other reports have claimed that both the Facebook and WhatsApp teams have been working on deeper integration that will let users of both Facebook Messenger and WhatsApp to send messages cross-platform and cross-app. If accurate, the move would be a huge deal for both especially as Facebook looks to take control of the instant messenger market.