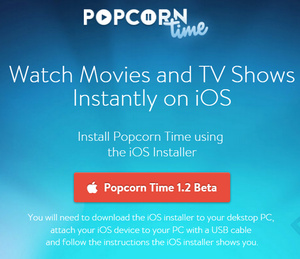 The team over at
Popcorn Time
has announced that their
iOS
app is now available for non-jailbroken devices, a massive launch that the team has been teasing for over six months.
iOS beta version 1.2 was also launched in conjunction, adding Chromecast and
Apple
TV support along with a ton of performance fixes and bug fixes.
Free VPN
will also be added in the coming days,
notes
the team.
"Ever since we released iOS for jailbroken devices in September 2014, we've been wrecking our brains to find a solution that will enable iOS users who don't want to jailbreak their device and use Cydia to also enjoy Popcorn Time on their iOS device.

Our relentless pursuit for a solution led us to a fruitful collaboration with another group of brilliant developers who came up with the awesome solution of making an iOS installer,"
said Popcorn Time.
There is one caveat. To get the app, you have to download software called 'iOS installer' to your computer, but that installer is only available for Windows right now. The team promises a Mac installer in the coming weeks, which is important since most Apple fans tend to stick with only Apple products.
Instructions on the installation are
here
. In closing, the developers took some shots at Apple: [The goal is]
"to fight the closed ecosystem Apple has created, screening and choosing for us what we can or cannot install on the devices we purchased and paid top dollar for. The technology is here and now this team is moving full force fulfill this vision of theirs. They're aim is to fully launch with this vision in the month of May." Try out Popcorn Time here.