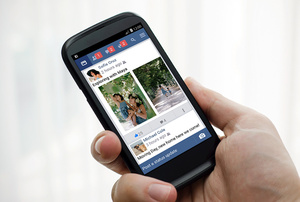 Facebook has launched 'Facebook Lite,' an Android app that promises to "use less data and work well across all network conditions."
The app itself is just 1MB and will include the basic core functions of the social network such as the News Feed, photos, notifications and status updates.
Says Vijay Shankar, Product Manager for Facebook Lite:
"More than a billion people around the world access Facebook from a range of mobile devices on varying networks. In many areas, networks can be slow and not able to support all the functionality found in Facebook for Android. Facebook Lite was built for these situations, giving people a reliable Facebook experience when bandwidth is at a minimum."
Facebook says the app is available now across Asia and will be rolled out to countries in Africa, Europe and Latin America in the coming weeks.