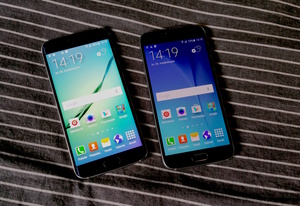 Smartphone manufacturers, especially the big ones, love their predictable release cycles. Apple releases an iPhone every fall and Samsung releases a top-of-the-line Galaxy S every spring.
Samsung's Galaxy S7 is "the next big thing", as Samsung likes to put it, but might
steal once more
a trick
or two from Apple.
The rumors have it that Samsung will be unveiling the follow-up to Galaxy S6 (pictured) in February and start selling the phone as early as March. But it is the main features that
Wall Street Journal is reporting
on now. One of them being the key new feature of this years iPhone.
According to the WSJ sources the Galaxy S7 will feature a pressure-sensitive display, quite like the 3D Touch Apple introduces with the new iPhone 6s and iPhone 6s Plus. Less surprisingly Samsung in said to upgrade the USB port to the new speedier and reversible Type-C port.
There are also rumors about an iris scanner as well as more general suggestions that the phone's camera will provide better low light performance and eliminate the camera bump on the back. It is also pretty safe to say that the phone will come in at least four flavors, two smaller ones and two bigger ones, each with a normal one and one with a curved Edge display.