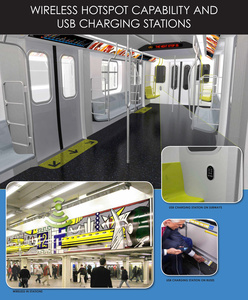 New York Governor Andrew Cuomo and the Metropolitan Transportation Authority (MTA) have announced a massive technology overhaul for the world's biggest subway system, including Wi-Fi connectivity across all 278 stations.
Additionally, the MTA will add USB charging stations to subway cars and buses and MetroCard readers will eventually accept mobile payments, as well.
Cell service will be available by the end of 2017, so you never have to worry about missing a call when you are headed to work or home.
"The MTA is absolutely vital to the daily functioning of New York City, but for too long it has failed to meet the region's growing size and strength,"
Cuomo said.
"This is about doing more than just repair and maintain -- this is thinking bigger and better and building the 21st century transit system New Yorkers deserve. We are modernizing the MTA like never before and improving it for years to come."

Source:
Capital NY