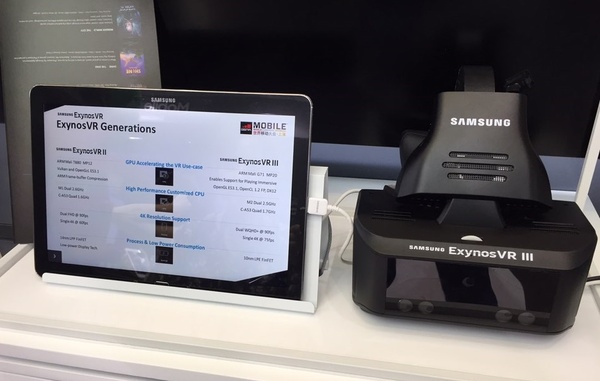 Virtual and augmented reality are advancing fast and many of the largest technology companies are trying to secure their piece of the cake. Manufacturers like Samsung and HTC have been working on VR devices for years and the likes of Google and Apple are investing more and more in the field.
The approaches vary immensely though. HTC Vive is a standalone device, Google's Cardboard is a case and Samsung's GearVR is made to be used with Galaxy smartphones. Now we have more information about a new Samsung device that might be hitting the stores as soon as later this year.
A virtual reality company by the name of Visual Camp has revealed some pictures of this new ExynosVR device that is supposedly Samsung's next VR headset. It features Visual Camp's eye tracking software and impressive hardware specs.
The third, and newest generation of the device, called aptly ExynosVR III includes 10nm hexacore chipset with four A53 cores and two M2 cores, and a Mali-G71 MP20 graphics chip. This reminds the specs of a new Exynos 8895 SoC that hasn't yet been seen in any Samsung devices.
It also includes a screen that offers either dual WQHD+ at 90 fps or single 4K resolution at 75 fps.
It's not currently known when the device will hit the markets but a good guess is perhaps just in time for holiday season.