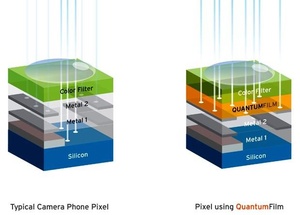 You might have heard of quantum dot, and if so it probably is thanks to Samsung. Samsung has been investing tons on their QLED television lineup that uses the quantum dot technology, and they think it's better for customers – and obviously manufacturers – than OLED.
However, Samsung is not the only company that is interested in the possibilities that the quantum dot technology provides. Now ever Apple seems to be fairly invested as it
has acquired
a company called InVisage Technologies, known for their QuantumFilm technology.
Found in 2006, InVisage has been researching and developing quantum dot technologies in camera sensors for over ten years. It's been funded by private equity firms, including one owned by former smartphone powerhouse Nokia.
The QuantumFilm technology created by InVisage has two benefits compared to current smartphone camera sensors. Firstly, it allows the shutter to close instantly on the entire lens which means that you won't get artifacts or distortions even with fast moving targets – everyone has seen video of plane rotors.
The second benefit is that it offers hugely increase color dynamics. High-end smartphones already have HDR modes that combine many pictures to provide better dynamic range but QuantumFilm could possibly increase the dynamics even further without the need to increased processing.
To get an idea of what QuantumFilm could provide future iPhones watch the video below. While the quality of the footage is not amazing, after all it's still in development, you can see the benefits. Also even a less sharp imagine with also less distortions, if that is the case, could be used in some applications, including self-driving cars.