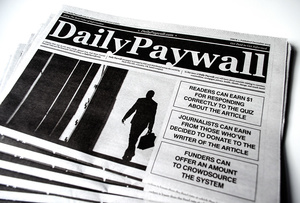 Nine European news agencies have signed on a plea which details that the U.S. online giants should be required to pay for using their content as the copyright holders. They are claiming that the social media companies are abusing content creators to further their own businesses.
The plea claims, according to
Yahoo News
that Facebook, among others, has become a de facto news aggregator for many people who read content created by these news agencies. However, they say that Facebook doesn't compensate the news agencies in a fair manner for using their content.
Their contention is that the stories written by the news agencies are now part of the core business for Facebook and Google even though they themselves do not participate in creating the content or hold rights for them. Furthermore the payments are too small or nonexistent.
According to them, the profitability of news has been in decline for years because these platforms haven't had to pay for their content that they distribute, meanwhile the profits of said internet companies have been booming.
In Spain this debate was already started in 2014 as Google was required by law, a newly enacted one at that, to pay royalties to Spanish news agencies for linking to their content in their Google News web service. Google instead declined to pay and closed their website in Spain.
The plea was signed by International new agency AFP in France, DPA in Germany, Press Association in the UK, Spanish EFE, Italian Ansa, Swedish TT, Belga from Belgium, Austrian APA as well as Dutch ANP.
It remains to be seen how Google responds this time around, and if Facebook's views on these things are any different.