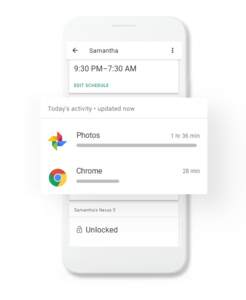 Google released last year a family-oriented app, called Family Link, which allows parents to control their kids' phones.
Previously Family Link has allowed parents to take control of their sub-13 year olds' phones only, now they've expanded the support to teenagers as well.
In a post-GDPR EU, where for example
minors under the age of 16 can't have a Google account
, the feature was obviously necessary, but elsewhere as well it gives long-awaited controls to parents of their offsprings' digital life.
Family Link was originally designed for minors under the age of 13 but with the new update teenagers are now included in the app as well. However, it does require both parties to accept the terms, but one could argue that should be easy to accomplish.
Since there is a bi-party consent, the teenager can break the connection at any point, but that will result in a 24-hour shutdown of the phone.
With Family Link the parents can monitor location and usage times on per-app basis, allow or ban downloads of specific apps, and even lock the device.
Google is also updating Assistant with Family Link features so you'll be able to ask Google Home or your Android phone's Assistant to lock your kid's phone or what have you.
The new Family Link features are live now except for the Assistant features that will start rolling out next week.