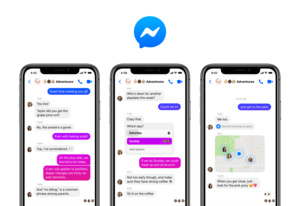 Facebook is of course known for its core business, that is the world's most popular social media site, but the company is perhaps even more dominant in another space.
Facebook owns two of the world's most popular messaging platforms, namely WhatsApp and Facebook Messenger. WhatsApp has continuously held the throne for years, and Messenger hasn't been able to catch up.
Both of them are of course growing, currently WhatsApp has 1.5 billion users and Messenger is still a close second with 1.3 billion. Facebook, however, hopes to get people in Messenger with a new update.
The updated Messenger is quite the revamp to the user experience, and Facebook hopes that the simpler user interface will attract more people.
That is at least what their research has shown, people love simplicity. Up to 7 out of 10 people appreciate simplicity over anything else.
The simpler UI means for example that the iOS app now only has three tabs instead of nine.
They also wanted to make the app more customizable and now the user can choose the color of chat bubbles.
If you want to preserve battery life, and happen to own a phone with an OLED display (e.g. iPhone X or Galaxy S9), you'll probably appreciate the new Dark Mode.
The new Messenger will become gradually available during the next couple of weeks.