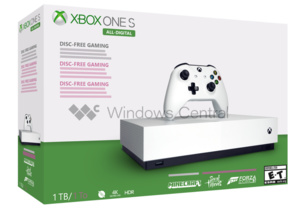 Microsoft is planning a launch event in early May. The company is said to be launching a new version of their current Xbox One game console.
Rumors have it that Microsoft is releasing a Xbox One S All-Digital Edition on May 7. This new version is a cheaper version of the already affordable Xbox One S, and, as you might decipher from the new name, doesn't include a Blu-ray or any other optical drive.
Microsoft is trying to move swifter towards digital media, which makes sense especially after the news about
Google's new game streaming Stadia
, and
Microsoft's in-house response
to that.
It is a perfect first step towards the digital content that will be distributed by Microsoft's upcoming xCloud platform, which is due at E3 in June.
At this point there's no word on how much exactly the new Xbox One S All-Digital Edition will cost, but thanks to the folks at
Windows Central
we have a picture of what the retail box will likely look like.
It's not an official picture of the box, but instead a remake according to their information to protect the original source.