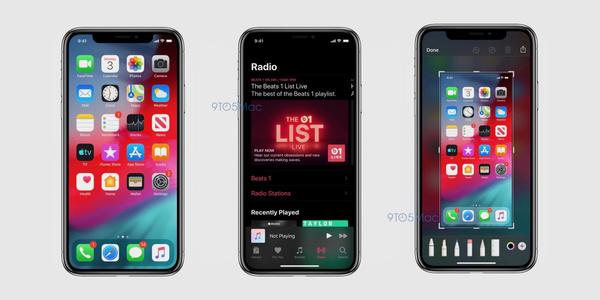 Apple is going to reveal their newest version of iOS next week. The mobile operating system gets announced an update at the annual Worldwide Developer Conference, as usual.
The new iOS 13 will be unveiled first time officially on WWDC keynote on June 3 by Tim Cook et al. While there have been rumors of what updates the new version will bring along, Apple still keeps secrets fairly well.
One thing that has definitely been rumored is a iOS-wide dark mode. Now we've also got some evidence in form of pictures to prove it.
Leaked pictures that
9to5Mac
managed to get their hands on show the darker than normal iOS, but according to these pictures there isn't a drastic change. On the left side picture, the bottom Dock seems to be a tad darker, but changing the wallpaper would do a lot to make it darker.
Dark mode gets better use inside apps, like in the Music app where OLED displays will save battery more efficiently thanks to the black backgrounds. The same darker smoked glass effect seen in the Dock is in use in other bottom and top bars too.
9to5Mac also notes that on the right side picture we can see the new annotation tools Apple has implemented in the updated screenshot feature.
Just like Apple, Google has been implementing their own system-wide dark mode on Android. It is not only better for your eyes in the dark but also helps you save some battery if you are using a device with OLED display.