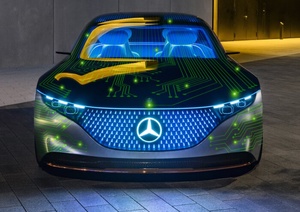 Ever since Elon Musk uttered the word autopilot, completely hands-off driving has been something all of us have been expecting in our next car. Unfortunately year after year, as it gets delayed, it seems more like a pipe dream.
Sure, it probably is still coming, but as long as Tesla seems like the only one developing one, we're going to have a bad time. Not only because of the limited resources but the incentives aren't there.
Fortunately for us, others think they can resolve the problem. Now Mercedes-Benz has signed a contract with Nvidia to produce them a car computer that would handle simpler things like OTA updates as well as autonomous driving.
The aim is to finish the project by 2024 with autonomous driving level 2 and 3 and parking at level 4, similar to what Teslas are capable at the moment.
Autonomous driving experience is rated at levels from zero to 5, the latter being complete autopilot without the need of user controls, the former, well, zero autonomy.
Nvidia is an interesting partner for Mercedes. They were the provider of Tesla's self-driving chips until Tesla
announced their own custom silicon last year
.
The Santa Clara, CA, company is of course most notably known for their GPU prowess with GeForce line of graphics chips.