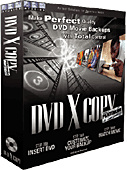 After eight months of waiting, San Fransisco federal judge Susan Illston delivered her ruling on high-profile case where Hollywood studios have sued an American company,
321 Studios
, that develops tools that allow breaking the copy protection mechanisms found on DVD movie discs.
Judge ruled against 321 Studios' arguments that DVD rippers, as the copy-protection cracking tools are called, help people to use their legal right to backup movies that they own. She said that the copyright law, namely the
DMCA
legislation, makes it clearly illegal to sell or distribute tools in the United States that allow breaking technical copy protection mechanisms.
"It is the technology itself at issue, not the uses to which the copyrighted material may be put,"
she wrote.
"Legal downstream use of the copyrighted material by customers is not a defense to the software manufacturer's violation of the provisions (of copyright law)."
The ruled that 321 Studios has to stop selling the software,
DVD X Copy
, within seven days in the United States. Company has the choice of replacing the product with a similar tool that doesn't include the ripper, the part that allows breaking the copy protection mechanism called
CSS
.
321 Studios immediately announced that they would ask for an emergency stay from courts and would appeal the ruling as well. Company president, Robert Moore said
"We can't just lay down for this. It is too important for the consumer; it is far too important to the evolution of our culture...We think the final battle will be fought at the Supreme Court or at the congressional level."
Obviously, the
MPAA
praised the ruling stating that the ruling
"...sends a clear message that it is essential for corporations to protect copyrighted works while facilitating the enjoyment of entertainment offerings through new digital technologies."
However, it is likely that the ruling doesn't really change anything at all even if 321 Studios don't get the emergency stay they're asking, as there are free tools like
DVD43
that replace the ripper part of the DVD X Copy software smoothly -- and also world is already almost over-saturated with
wide variety of free and commercial DVD rippers
.
More information:

News.com
DVD X Copy forums