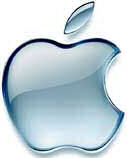 Apple
has been sued in France by the French record industry association
Sacem
for not paying the French blank media levy to the organization. In France, just like in Canada and various other countries, the personal copying of copyrighted material is apparently legal, but music publishers and artists are compensated for this right by having a levy -- or "tax" if you like -- on blank media products. In France these products that carry levy include blank optical media
(CDR discs, DVDR disc)
, tapes, HDDs are other devices that can be used to store copyrighted music by an individual consumer.
Apple has refused to pay the levy for its
iPod
, which for 20GB model would add up to 20 euros ($24.63) on top of the retail price of the device. Sacem estimates that Apple sold more than 20,000 iPods in France last year with the HDDs between 10 and 40 gigabytes.
Now, the organization says that it
"will have no other option than to go immediately to court to make sure that the rights of artists, composers and producers are respected."
Source: AP via Yahoo!