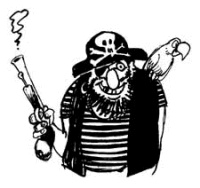 On Monday, the
Bush
administration added China, Russia and 10 other nations to its so-called priority piracy watchlist for failing to "sufficiently protect American producers of music, movies and other copyrighted material from widespread piracy."
The 12 nations, as well as 31 other countries who were placed on a lower priority list, will be subject to extra scrutiny and eventually, if the administration sees it fit, they can bring trade cases before the
WTO
.
The list was reported in an annual report that the administration is required to give Congress that highlights problems that American corporation are facing with copyright policy worldwide, which the corporations contend is costing them billions in revenue each year.

"We must defend ideas, inventions and creativity from rip-off artists and thieves,"
U.S. Trade Representative Susan C. Schwab said in a statement accompanying this year's report.
The annual report, known as a "Special 301 Report," placed China, Russia, Argentina, Chile, Egypt, India,
Israel, Lebanon, Thailand, Turkey, Ukraine and Venezuela on the high priority list and the U.S hopes that Russia will fufill commitments in upgrading copyright protection. A U.S.-Russia accord last year involving copyright policy was seen by the Bush administration as a key milestone in Russia's efforts to join the WTO.
Of course, the
RIAA
and
MPAA
had statements to make after the report was issued.
Neil Turkewitz, an official for the RIAA, applauded the decision to place Russia and China on the list. He noted that the two countries were home to
"some of the world's most notorious pirate Web sites such as allofmp3.com."
Dan Glickman, boss of the MPAA, said the new report indicated
"the scope of global piracy and serves as a sobering reminder of the challenges ahead."
The other countries, placed on lower priority, were: Belarus, Belize, Bolivia, Brazil, Canada, Colombia, Costa Rica, Dominican Republic, Ecuador, Guatemala, Hungary, Indonesia, Italy, Jamaica, South Korea, Kuwait, Lithuania, Malaysia, Mexico, Pakistan, Peru, Philippines, Poland, Romania, Saudi Arabia, Taiwan, Tajikistan, Turkmenistan, Uzbekistan and Vietnam.
Source:
Yahoo!