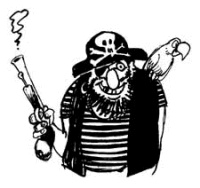 For anyone familiar with the piracy scene, for years the name
maVen
has usually meant very high quality
telesyncs
. However, after investigations by the FBI and Canadian authorities, Geremi Adam (aka maVen) is facing up to 6 months in jail.
From 2004 to 2006, maVen released telesyncs of the blockbusters 'Bourne Supremacy', 'Collateral', 'Harry Potter and the Goblet of Fire', 'Chronicles of Narnia','Underworld Evolution', 'Mission Impossible 3′, 'X-Men: The Last Stand', 'Cars' and 'Superman Returns', all usually within a couple of days of the theatrical release.
In July 2006 however, maVen releases disappeared and we may now why know. According to reports, an FBI investigation in the US was handed over to the Royal Canadian Mounted Police (RCMP) in April 2006.


"He was referred to us by the FBI,"
said RCMP Staff Sgt. Noel St-Hilaire.
"They had an investigation in the States."
In September 2006, thanks to information from the
Canadian Motion Picture Distributors Association
, the RCMP arrested the 25 year old Adam outside a Montreal theater after allegedly camming the movies "How to Eat Fried Worms" and "Invincible." His laptop was seized along with his camcorder and other equipment but Adam released. He was arrested again just a month later at another theater.
Allegedly, Adam had been selling copies of his movies on the internet, making about $300 to $1000 for each, before they were redistributed on
Warez
and
torrent
sites and sold on street corners around the US and Canada.
After Adam's second arrest, there was a 14 month wait before the police had enough evidence to charge him and he now faces two counts of "distributing copyright material on the internet."
According to RCMP Staff Sgt. Noel St-Hilaire, Adam got lucky however. He was arrested before new legislations cracking down on movie cammers in Canada passed. St-Hilaire explained.
"Unfortunately at the time there was no legislation that forbid anyone from filming in a cinema. There's not much we could do then other than issue a warning."
Adam is set to appear in court in January and will face up to 6 months in prison and a $25,000 CAD fine.
Source:
TF