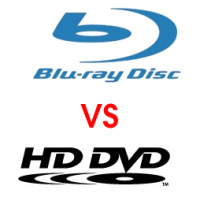 Despite the apparent optimism from studios and the consumer electronics industry, U.S. retailers aren't satisified with the growth of either Blu-ray or HD DVD in 2007. While sales were up from the previous year, title sales accounted for only 3.5% of packaged media sold last year.
According to Todd Zaganiacz, president of the National Entertainment Buying Group, sales still aren't high enough to sell retailers on either format.
"I've talked to a handful of retailers who still aren't doing HD. I don't think anybody will ditch it, but there wasn't enough of a bump to get anyone off the fence, or devote more space to either format."
Netflix
spokesman Steve Swasey indicated that neither format has dominated rentals either. This would seem to validate those who question whether PS3 sales, which have grown at a significantly higher rate than either HD DVD players or non-PS3 Blu-ray players, should be counted in standalone player comparisons.
One thing retailers are convinced of right now is that there's more money to be made in standard definition DVDs.
"DVD still gets top billing,"
Zaganiacz said.
"A lot of the retailers are doing the same as the consumers, and waiting."
Source:
Home Media Magazine