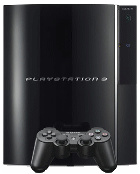 Today at the
CES
2008 event,
Sony Japan
has announced that they will be dropping the 20GB and 60GB
PlayStation 3
models after a final shipment next week.
The company is now set to focus on the 40GB model in Japan and it plans to "vigorously promotes" the home console during 2008.
The two discontinued models were available on launch day in November 2006 and the newer 40GB model launched in November 2007. Sony has kept that same strategy worldwide, continuously dropping prices and introducing new models in Europe, North America and Asia.
In October Sony Europe phased out the 60GB model in favor of the cheaper 40GB unit and North America has seen the launch of an 80GB model and the discontinuation of both the 20GB and 60GB units.
Some have complained however about the dropped features of the 40Gb model. Most notably, backwards compatibility for PlayStation and PlayStation 2 titles has been dropped in favor of lower manufacturing costs.
Source:
GI.biz